We thoroughly test Apple's streaming movies and series service
The one who warns is not a traitor, and Apple was not going to be less. On day one of this month came Apple TV + Apple's series and movie service. This service has been released with original content (quite scarce), waiting for, little by little, this is increasing.
Since the day of its launch, we have been able to try Apple TV +, being able Talk about your lights and shadows. In the middle of the Netflix HBO and other alternatives, all the meat must be put on the grill to be a competitive rival. Will Apple's proposal be?
This is how Apple TV + works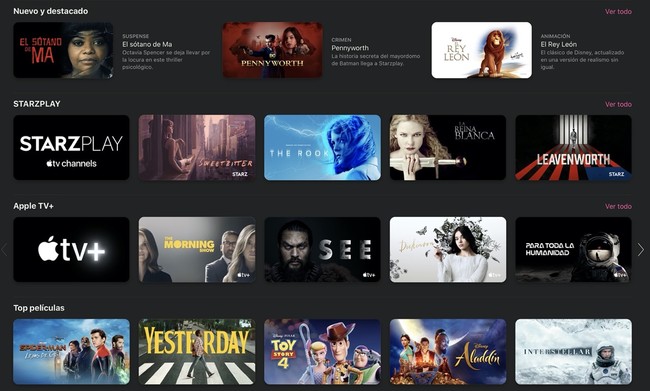 In other words, when you open the Apple TV application, whether on a computer, iPad or iPhone, we will find Apple TV + titles mixed by the interface with other titles of Apple TV something that is not the same service. The problem here is that Apple TV is the same name for two things. One, Apple's physical device to send content to television, and another, that of an application that allows us to reproduce in a single app different subscription services rental, purchase, etc.
Beyond the small disaster we found when we found all the titles mixed with each other, we find that Apple TV + has gone "on the street" with eight titles . That is, this first month, unless they start to include quite a few titles with relative speed, we will be paying 4.99 euros for an 8 series catalog, a little more than half a euro to watch each one.
The Morning Show
See
Dickinson
For all mankind
Queen of elephants
Helpsters
The ghost writer
Snoopy in space
The interface is simple and complete, showing us the episode playback options, download, add to 'Next', as well as information regarding the resolution and audio quality of it .
Add that, in our case, we have been able to send the content to a Samsung Smart TV, but it has not been possible to make such a shipment with a Chromecast since that this does not appear in the device list Tives Clarify that Apple TV + is compatible with Fire Stick and with Smart TVs of brands such as LG, Sony, or Samsung, as these are compatible with the Apple TV app.
As for the content playback, it goes without saying that it plays. in 4K without any cut, as long as the connection accompanies. In fact, as we read in Flatpanels the bitrate is higher than Netflix although, as we anticipate, we have not noticed an extra quality, everything looks like a charm, as it was of waiting.
An ambitious proposal that needs improvement
Apple TV + comes from the hand of own productions and the ambition to rival With streaming giants. However, for this you need, first, to be more differentiated within the Apple TV + application Its current rivals have their own applications, if you want to watch Netflix, you download Netflix, and so on with the rest.
The Apple TV + catalog will increase over time, but today it is quite scarce, and it is worth considering whether it is worth investing in the service at its launch
If you want to watch Apple TV +, you have to look for it as another redoubt within Apple TV, or look for one of its titles in the 'what to see' section. As for the content, it is not appropriate to criticize that it is scarce, since it is a matter of time to add more. What is possible is to reflect on whether, as of today, it is worth it or not to pay 4.99 euros for having access to eight titles counting the competition with thousands of them.
---
---